India's riches are unfathomable when it comes to art and culture. The vast array of musical instruments used in Indian classical music along with the vocal expertise create a bountiful treasure trove. And the keeper of these riches - the mighty Indian classical musicians together make a complete galaxy of stars. They are legends known to the world for their unflinching dedication to music.
The musical virtuosos of India have put the country's name on the world map. They have made these ancient art forms thrive through the crest and fall of time. Most importantly, they have motivated the present generation to keep the fire alive. They have proved that Indian classical music is blessed with the elixir that will keep it empowered till eternity.
Here is a humble attempt to express gratitude to 6 such legends for everything that they are and everything that they have given us through their music.
List of Top 6 Famous Indian Classical Musicians:
1. Pandit Ravi Shankar
2. Ustad Zakir Hussain
3. Pandit Bhimsen Joshi
4. Ustad Bismillah Khan
5. Pandit Hariprasad Chaurasia
6. Dr. L. Subramaniam
Let's dive into the details:
1. Pandit Ravi Shankar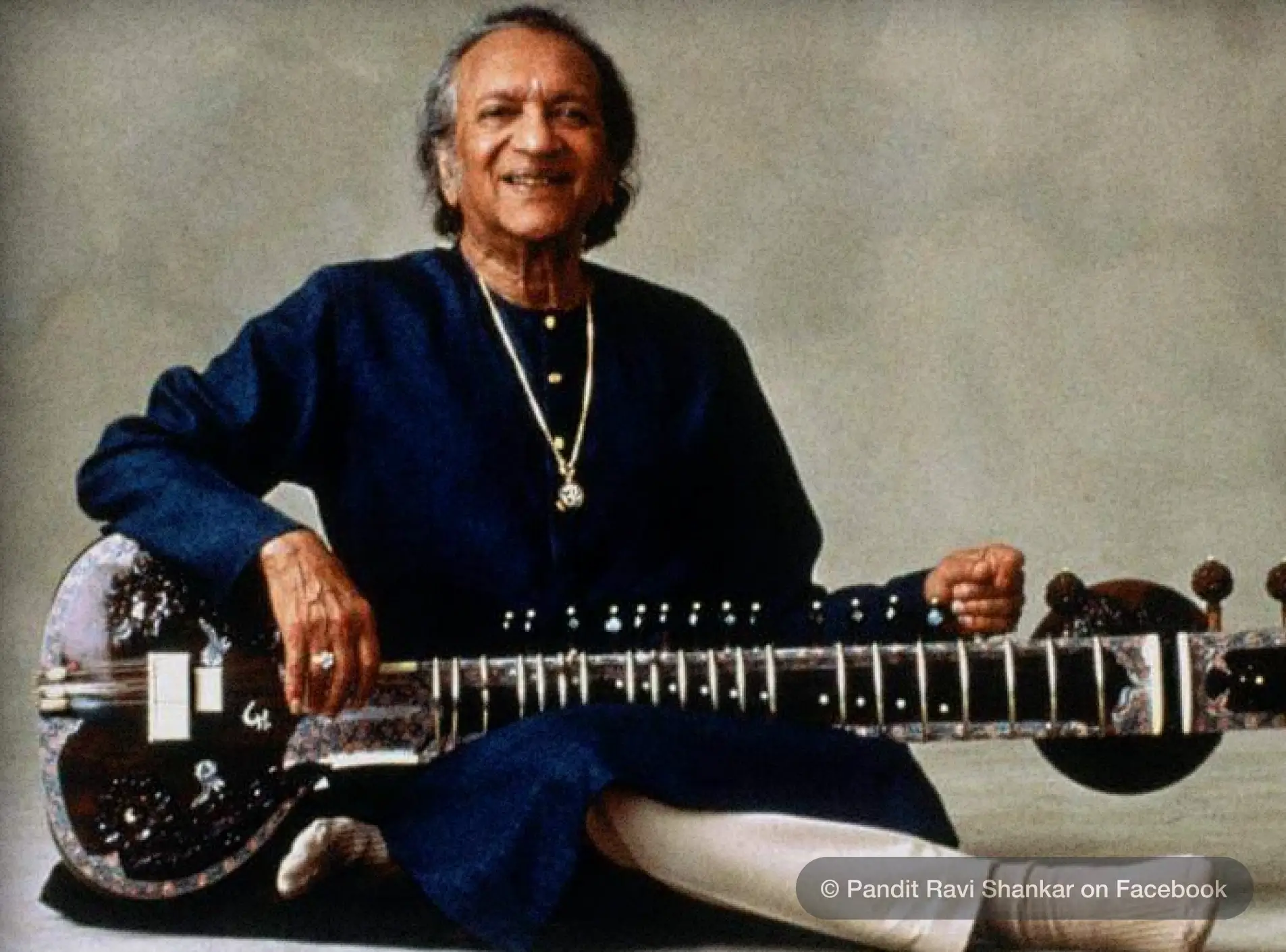 For the world, the emblem of Indian classical music is the sitar. It is all because of Pandit Ravi Shankar's efforts to popularize Indian classical music globally. Through his live performances on sitar, collaborations with Western musicians, and workshops, he left an indelible mark on the music world.
His performances at iconic events such as Monterey Pop Festival in 1967 and the Woodstock Festival in 1969 exposed the sitar to a global audience.
His collaborations with several renowned Western musicians, most notably violinist Yehudi Menuhin and guitarist George Harrison of the Beatles helped bridge the gap between Eastern and Western musical traditions.
He served as a cultural ambassador, representing Indian classical music and culture on a global platform. Shankar's musical contributions earned him numerous accolades, including Grammy Awards, the Bharat Ratna (India's highest civilian award), and honorary doctorates from esteemed institutions.
2. Ustad Zakir Hussain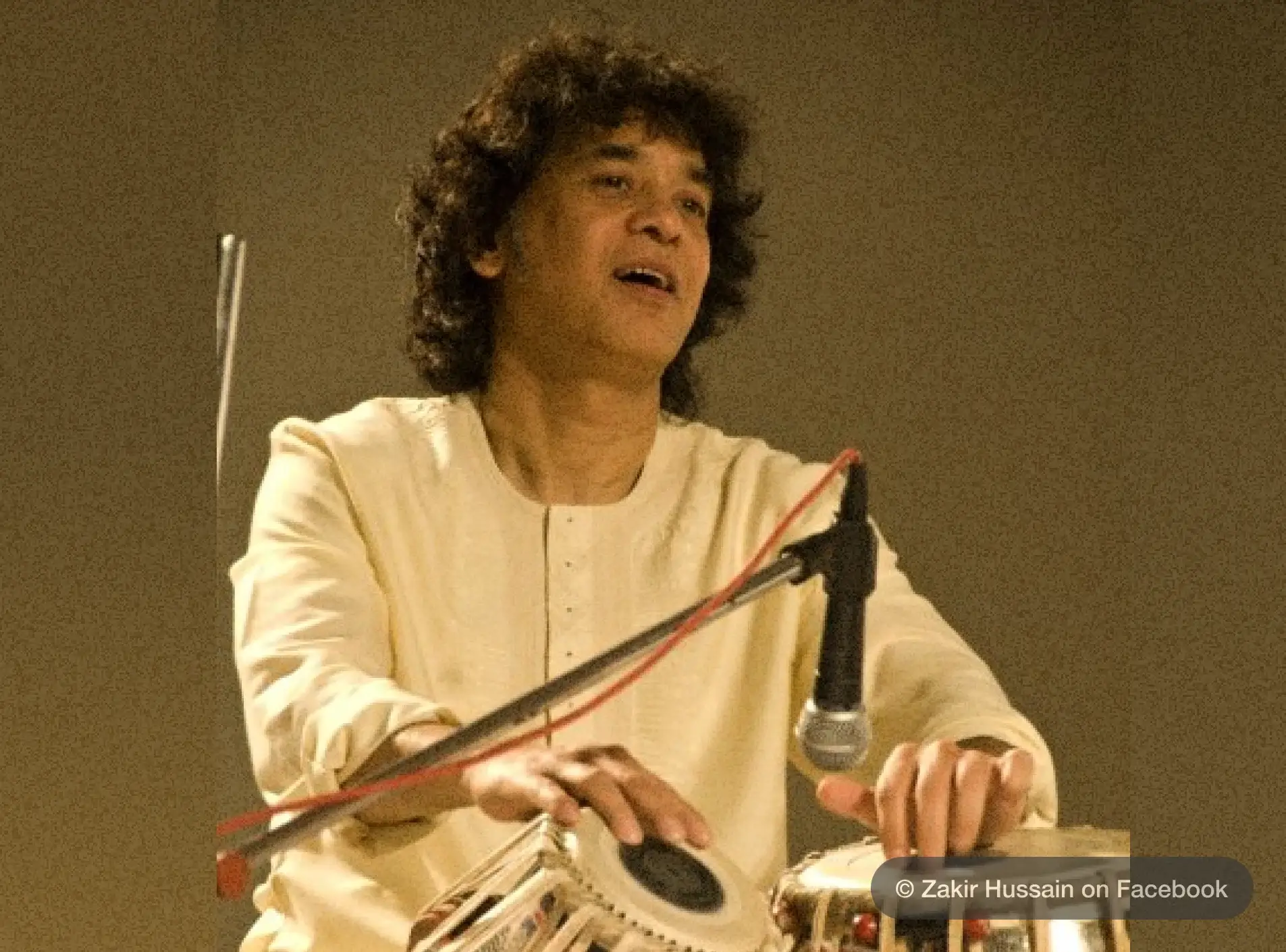 Widely regarded as one of the greatest tabla players, Ustad Zakir Hussain's recitals are marked with a detailed and nimble repertoire, laudable rhythms, and improvisations. His unique way to communicate with the audience through his expressive 'bol' on the percussion and his ability to blend together tradition and innovation has made him a global favorite among classical music enthusiasts.
His collaborations with jazz legends like John McLaughlin, Mickey Hart, and Charles Lloyd have resulted in groundbreaking fusion projects. Besides earning him several Grammy Awards, these collaborative albums have created a benchmark for the cross-cultural expression of music. It has established tabla and Indian rhythms on a global platform and increased its appreciation in a manifold manner.
For music learners, it is significant to know about the Importance of Taal and Laya in Indian Music. However, Hussain's recitals motivate you to transcend into a surreal orb of musicality.
Hussain has been conferred with Padma Bhushan by the Indian government. As one of the cultural ambassadors of India in the realm of classical music and a fervent propeller of tabla-playing art - Hussain is revered by music enthusiasts the world over.
3. Pandit Bhimsen Joshi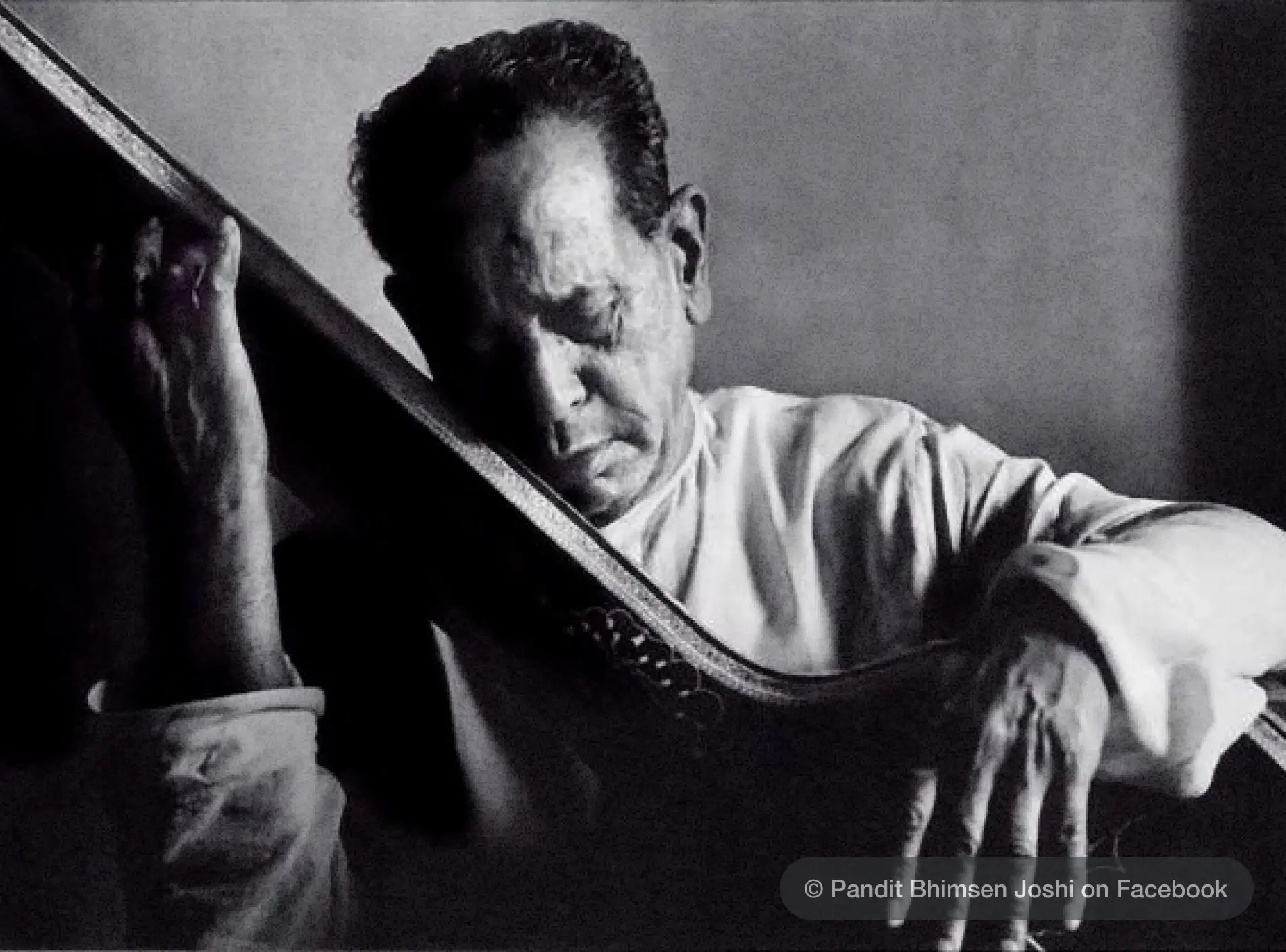 Pandit Bhimsen Joshi is a revered vocalist and torchbearer of the Kirana Gharana. His full-throat voice, spontaneous improvisations, and intricacies of his rendition take the Ragas to a different level altogether.
At the very young age of 11, Joshi had set out all by himself in search of a Guru who could train him to sing like Abdul Karim Khas in the popular Jhinjhoti raga-based Thumri - Piya Bin Nahi Awat Chain. From Dharwad to Bijapur to Puna and at last - Gwalior - where he joined the Madhava Music School with the help of legendary Sarod virtuoso - Hafiz Ali Khan. Joshi's quest to find a Guru continued till he was accepted as a disciple by Sawai Gandhava in his own hometown.
Indian classical music offers the scope for the artist to contribute and expand its horizon. And every practitioner has given back by contributing their own creations that have enriched the repertoires of the Gharana they belong to. Joshi's constant collaboration with artists from different Gharanas helped him to assimilate elements of those Gharanas into the style of Kirana Gharana. His music bore the influence of Begum Akhtar, Smt. Kesarbai Kerkar and Ustad Amir Khan. 
Besides classical music, his soulful renditions of Bhajans, patriotic songs, and some distinguished movie songs. Thus, even while he was a pure classist, his unique penchant to blend together multiple genres and traditions made him a favorite with the connoisseurs as well as the masses. He was conferred Bharat Ratna - the highest civilian award in India in 2008.
4. Ustad Bismillah Khan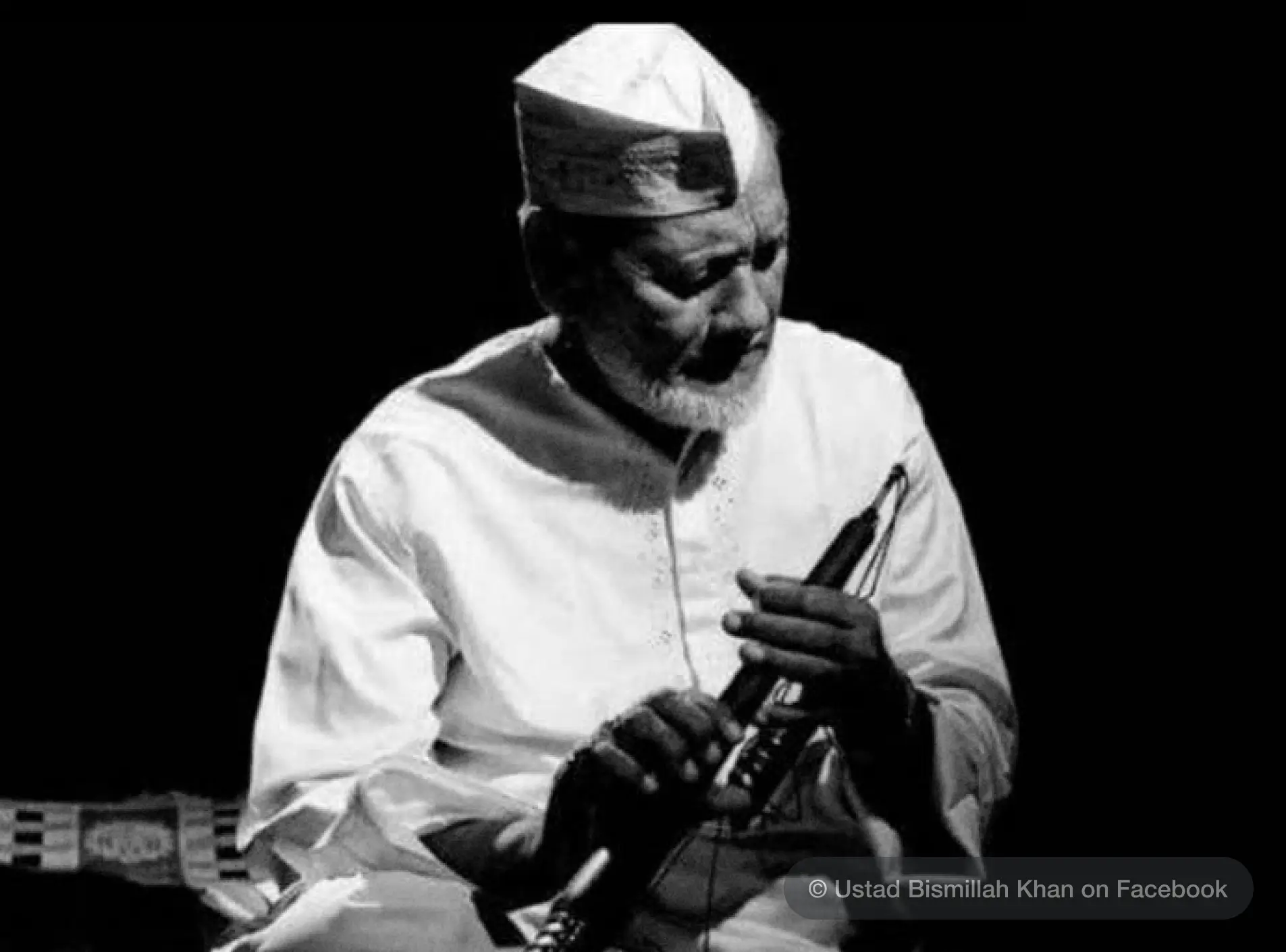 Mere Malik mukhe sur bhaksh de |
Sur mein woh Taseer paida kar
Ki ankhon se sachche moti ki tarha angarh ansoon nikal aayen ||
These words were uttered by shehnai maestro Ustad Bismillah Khan. He had the honor to play Shehnai at the celebrated moment of India's independence when the Indian flag unfurled at Red Fort on 15th August 1947.
Bismillah Khan comes from a lineage of court musicians in Dumraon Estate in Bihar - his grandfathers - Ustad Salar Hussain Khan and Rasool Bux Khan, and his father Paigambar Bux Khan. From his mother's side, he is related to the renowned Ali Bux Vilayatu Khan who played a significant role in guiding Bismillah Khan in his musical journey.
Bismillah Khan played a pivotal role in taking shehnai from being played at wedding ceremonies and temples to the concert stage. From esteemed National events such as the All India Music Conference in Kolkata to international stages such as -  World Exposition in Montreal, Cannes Art Festival, and Osaka Trade Fair - he gathered accolades and appreciation for his soulful recitals.
He was awarded Bharat Ratna in 2001.
5. Pandit Hariprasad Chaurasia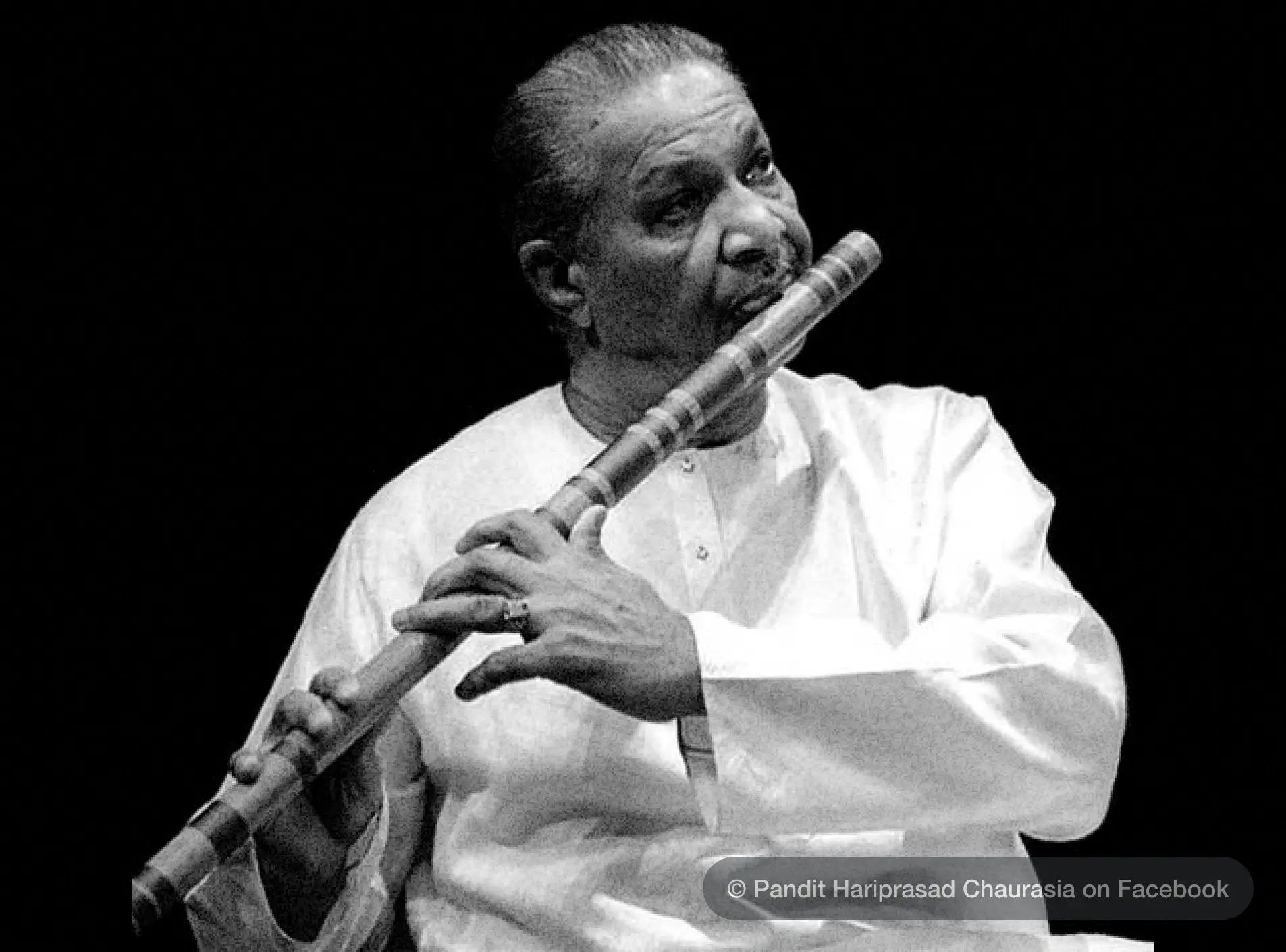 From a boy who had to sneak out of the wrestling grounds to evade his father's eyes and go to learn flute to the celebrated national pride and flutist - Pandit Hariprasad Chaurasia - the journey is truly awe-inspiring!
His recitals brought to life the Indian ragas with unmatched precision and innovation of musicality and engaging emotion. His efforts took the humble bamboo flute to the international stage and earned accolades for Indian classical music from the global audience.
He collaborated with several artists from India and abroad to create benchmarks in the history of classical music in India and the world.
Some of his noteworthy international collaborations include compositions with John McLaughlin, Jan Garbarek, George Harrison, and Ken Lauber. His flute recital has also been featured on The Beatles' album released in 1968.
Back home, he collaborated with several revered Indian classical musicians namely Shiv Kumar Sharma, Bhubaneshwar Mishra, and Suman Kalyanpuri.
Pandit Hariprasad Chaurasia was conferred with Padma Vibhushan in the year 2000.
6. Dr. L. Subramaniam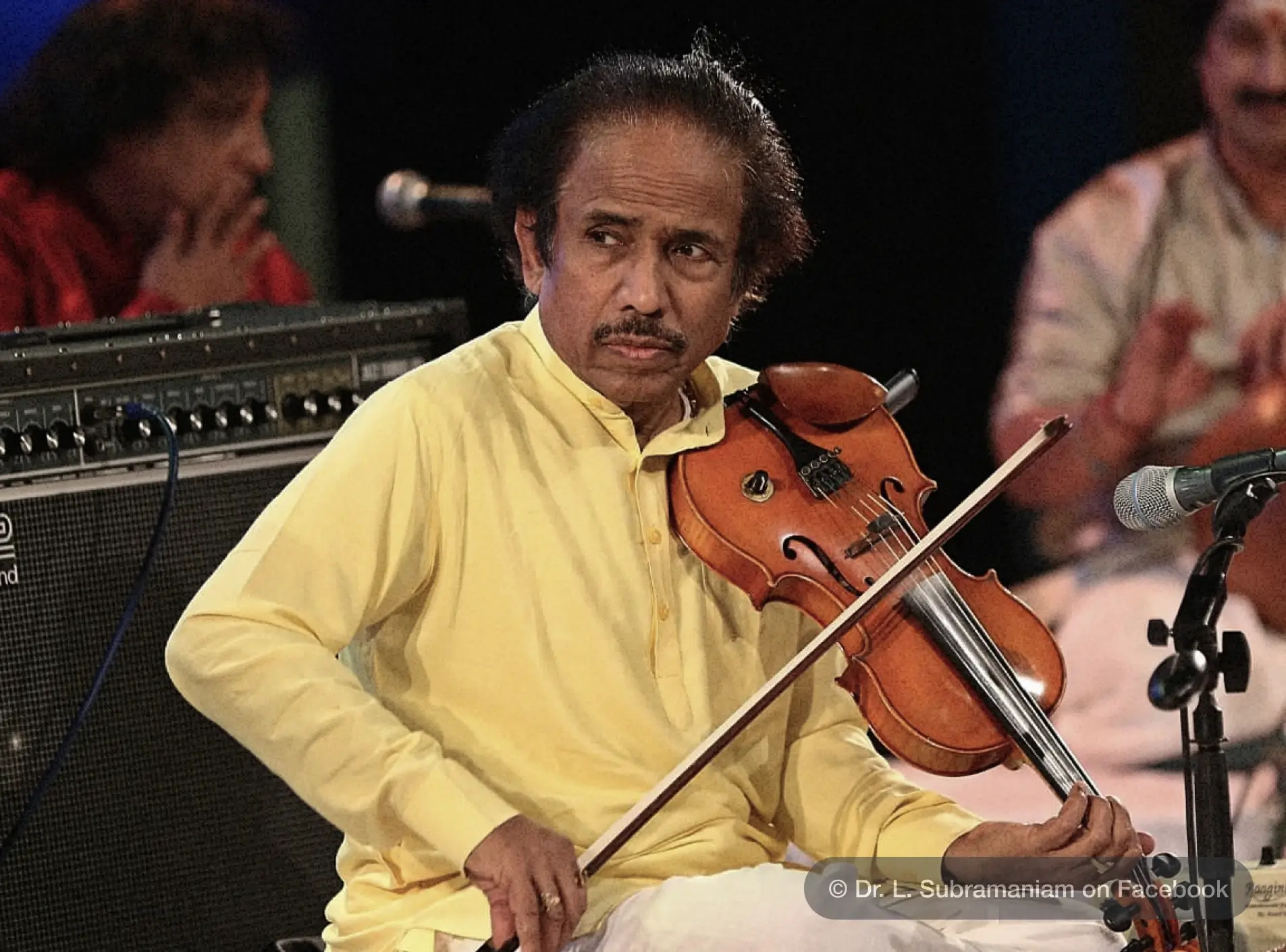 Renowned violinist - Dr. Lakshminarayana Subramaniam trained in Carnatic music as well as Western classical music. Needless to say, his compositions have elements from both. Just as the Indian musical elements such as 'meend' and 'gamaka' find impeccable expression through his fingers and bowing style, western harmonies are also played with technical precision.
His collaborations with Western musicians such as Stéphane Grappelli, Yehudi Menuhin, Ruggiero Ricci, and many others, have helped to popularize Indian classical music to a global audience. He was nominated for the Grammy Awards for his album - Indian Classical Music in 1981.
Apart from Indian classical music, Subramaniam has also dabbled in music composition for some critically acclaimed movies - namely - Salaam Bombay and Mississippi Masala.
He was conferred with Padma Bhushan by the Indian Government in 2001.
In Conclusion…
Words fall short when it comes to mentioning the virtues of Indian classical musicians and their contribution to the musical fraternity at large. And also tracing the stars of a galaxy as big as Indian classical music is next to impossible. They have kept the essence of classical music alive, made them globally acceptable, and also relevant for the present and upcoming generations.
If you want to follow in the footsteps of such luminaries, this is the right place to start. Explore online music classes and embark on a melodious journey.