The mention of the best Indian singers rakes memories of the songs closest to our hearts. Indeed, singers are remembered through the songs they have sung. The songs that define the moments of life, become the mirror of the society, voice of the oppressed, and much more. Songs that we hold onto time and again, songs that heal us, motivate us, help us bond with our loved ones, and much more.
Had it not been for these singers, who would have breathed life into words, poetries, and couplets? Who would have created melodies for us to be cherished at a time of joy and pain alike?
Top 10 best Indian singers, Bollywood singers:
1. Lata Mangeshkar
2. Kishore Kumar
3. Mohammed Rafi
4. Asha Bhosle
5. Udit Narayan
6. Alka Yagnik
7. S. P. Balasubrahmanyam
8. Sunidhi Chauhan 
9. Arijit Singh
10. Shreya Ghoshal

Let's explore the list of famous Indian singers in detail:
1. Lata Mangeshkar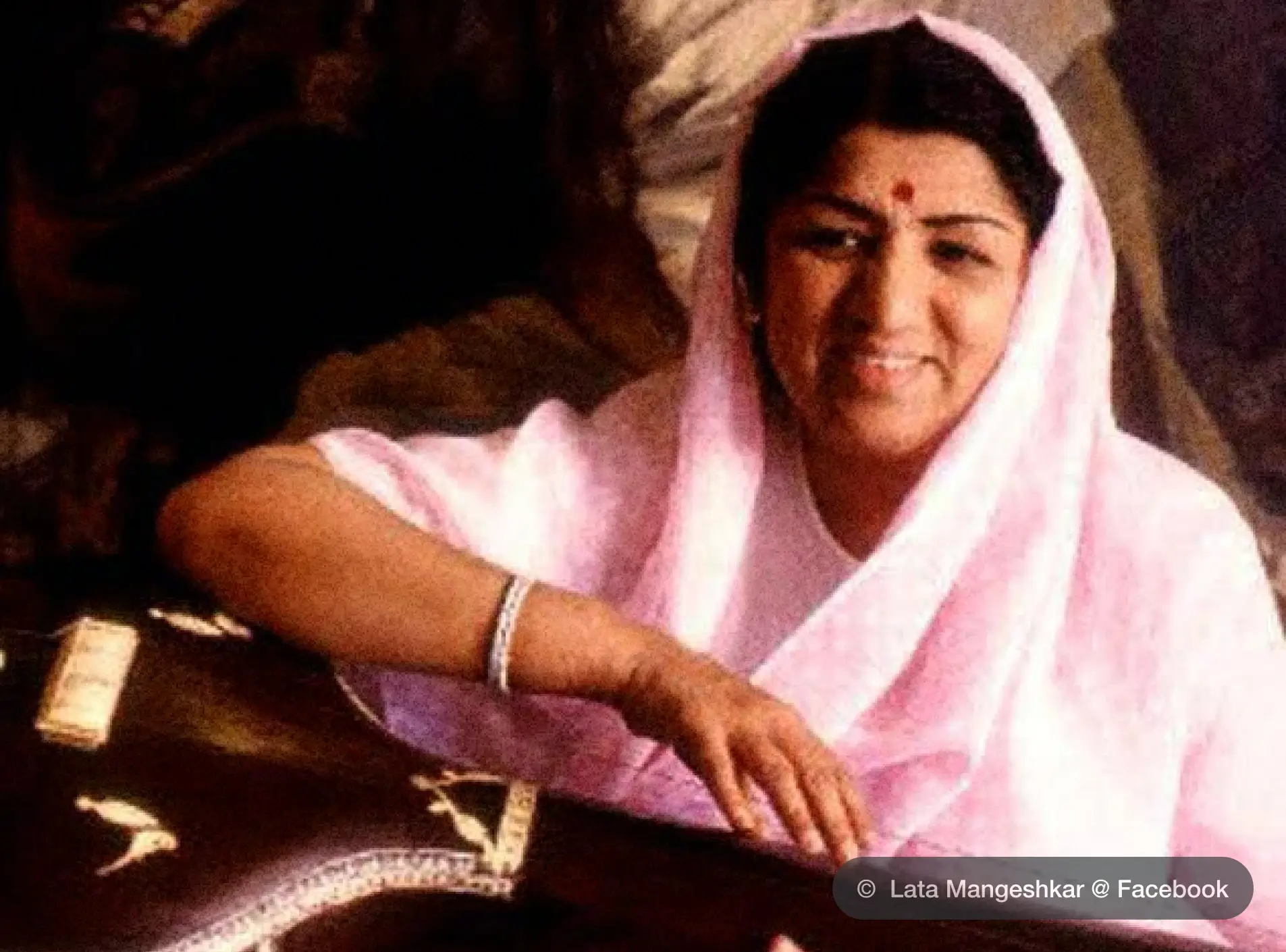 The first name on our list is the Nightingale of India, Lata Mangeshkar. She has set a new benchmark for Bollywood songs with every song she has sung.
Her timeless voice transcends generations. With a career spanning over seven decades, she's not just a singer; she's an institution, an inspiration, and a true embodiment of dedication and passion.
Lata has given voice to timeless melodies that were lipsynced on screen by heroines - starting from the yesteryears' Nutan and Meena Kumari to Kajol, Rani Mukherjee, and Preity Zinta - just a decade back.
From Gulam Haider to A.R. Rahman - she has brought to life, and immortalized songs composed by several maestros. Particularly, her collaboration with music directors like S.D. Burman, R.D. Burman, Madan Mohan, and Shankar-Jaikishan brought out the multifaceted brilliance of her voice.
The accolades showered upon Lata Mangeshkar mirror her unparalleled impact on the music industry. With numerous National Film Awards, Filmfare Awards, and the prestigious Bharat Ratna, she remains a living testament to the heights that can be reached through unwavering dedication.
2. Kishore Kumar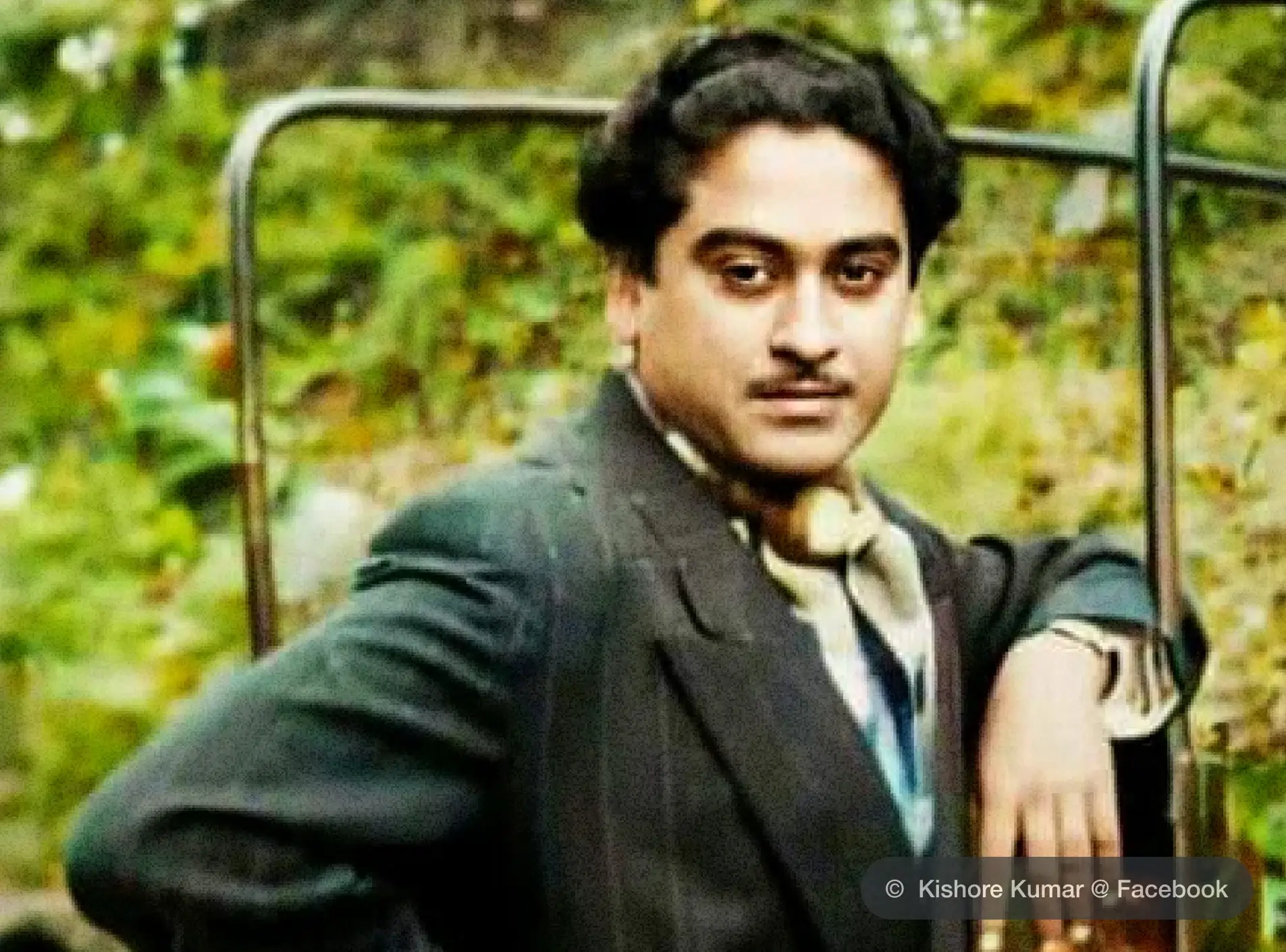 One name that rings out like a resonating chord, touching the hearts of millions with its unmatched charm and versatility. He is an enigma wrapped in music. He wasn't just a singer; he was a complete entertainer. He is none other than - Kishore Kumar.
From soulful melodies that tug at your heartstrings to peppy tunes that make your feet tap, Kishore Kumar's journey through music is a testament to the power of unwavering passion and fearless creativity.
Be it the sunk-in-the-gloom - 'Kiska Rasta Dekhe' to the heartfelt 'Mere Sapno Ki Rani' or the spirited 'Pag Ghungroo Baandh', Kishore da could weave his magic through any tune.
What set Kishore Kumar apart wasn't just his voice, but his unapologetic individuality. He embraced eccentricity with open arms, and it translated into his music. Who can forget his signature yodleing - 'Odlei Odiei Ohuuuu, Odeli Odlei O' that took the spirit of the songs like - 'Zindagi Ek Safar', 'Chala Jata Hoon Kisi Ki Dhun Mein', and 'Yeh Dil Naa Hota Bechara' to a different level!
Kishore Kumar never shied away from breaking the stereotype and always brought some uniqueness to the songs. He keeps inspiring us not just through his melodic voice but also teaches us to be nonconformist and unapologetically unique in our own way. 
3. Mohammed Rafi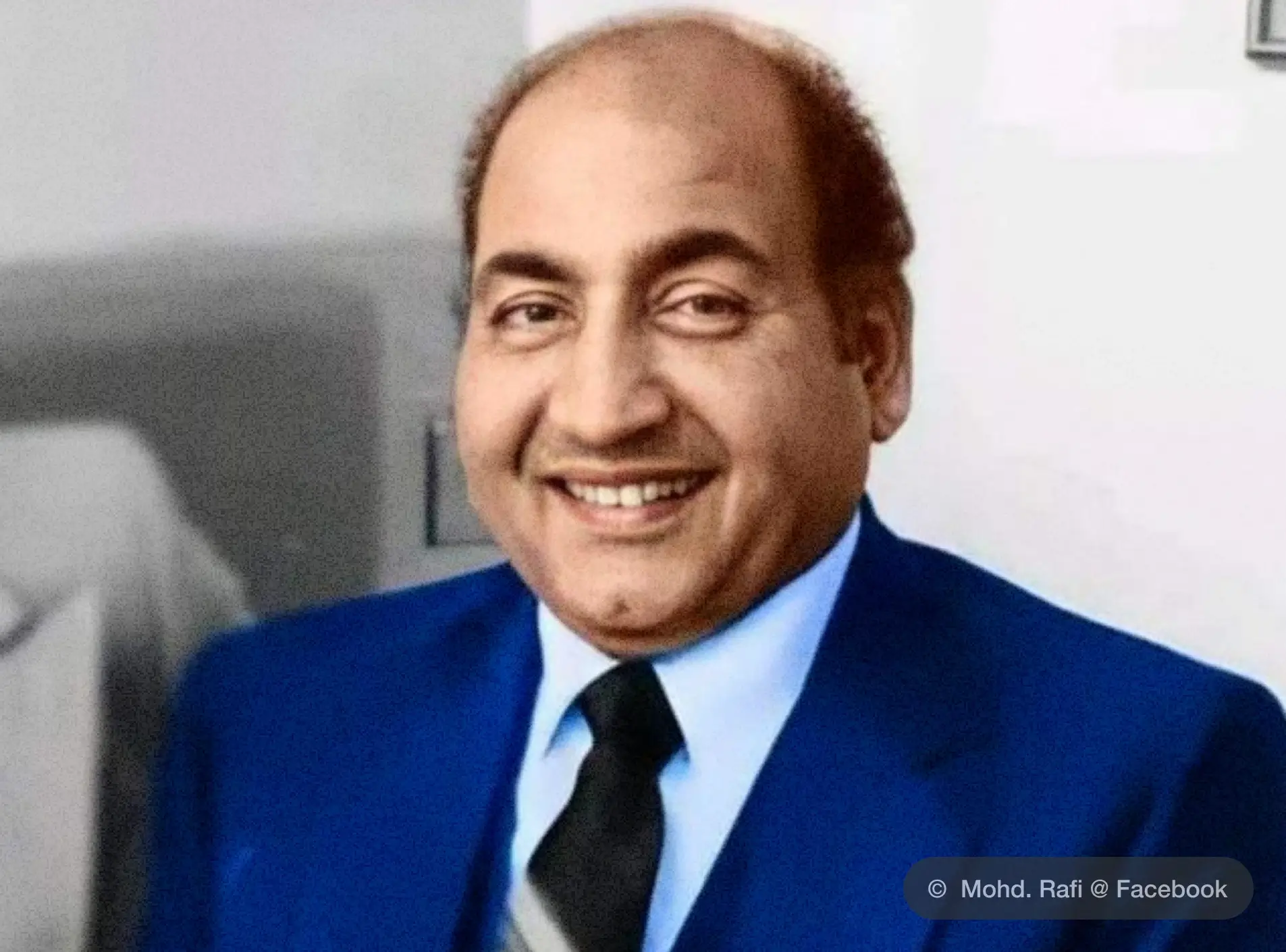 In the rich tapestry of Indian music, there exists a voice that defies eras, transcends generations, and continues to enchant millions with its timeless melodies – it is the voice of Mohammed Rafi. 
Often referred to as the "Golden Voice," Rafi Saab's contributions to the world of music are not just notes but stories, emotions, and a symphony of inspiration.
Rafi Saab wasn't just a singer; he was a sorcerer who could evoke a plethora of emotions through his voice. From the melancholic depths of "Kya Hua Tera Wada" to the exuberant highs of "Aaj Kal Tere Mere Pyar ke Charche" his vocal prowess knew no boundaries.
What truly sets Rafi Saab apart is his ability to seamlessly transition across genres, languages, and styles. Whether it was romantic ballads, qawwalis, patriotic anthems, or devotional hymns, his voice resonated authentically, leaving us spellbound every time.
Rafi Saab's collaborations with music directors like S.D. Burman, Naushad, Shankar-Jaikishan, and R.D. Burman have etched unforgettable melodies into our collective memory. 
Mohammed Rafi's journey teaches us that greatness is born from an unrelenting love for one's craft, a willingness to evolve, and an undying commitment to authenticity.
4. Asha Bhosle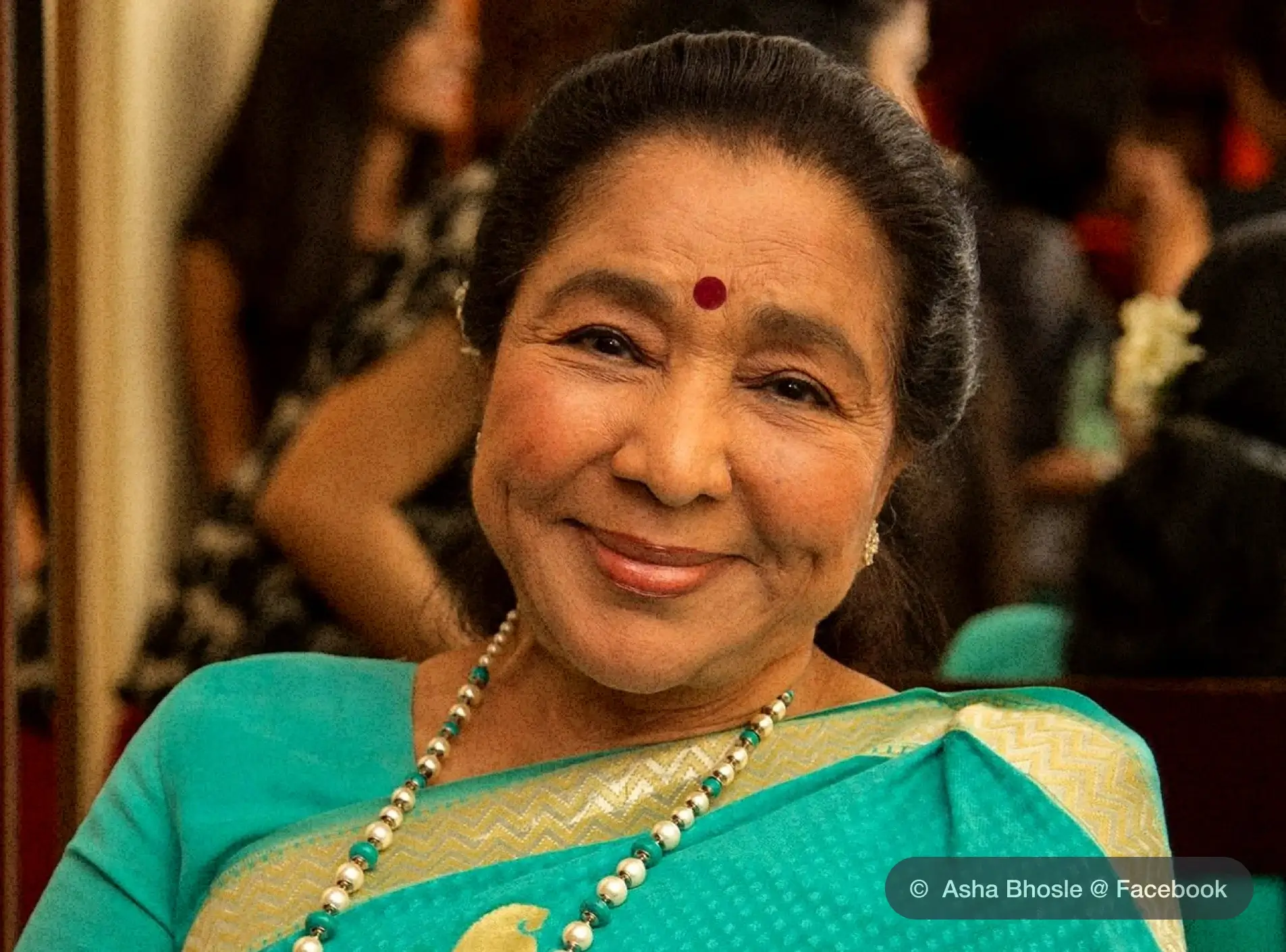 A true icon of versatility, she isn't just a singer; she's a musical pioneer who has shattered glass ceilings, and broken conventions, and serenaded her way into our hearts.
Her roots in a musical family set the stage for her breathtaking journey. Little did the world know that her voice would carry the melodies of countless generations to come.
Asha Bhosle's voice is a spectrum of emotions – from the velvety - 'Parde Mein Rahne Do' or 'Mera Kuch Saman' that tug at your heartstrings to peppy numbers such as - 'Jawani Janeman' that make you want to dance. She traverses genres with ease, leaving her imprint on romantic melodies, cabarets, ghazals, and even Western collaborations.
What sets Asha Bhosle apart is her fearless spirit of innovation. She has always been open to experimentation, pushing the boundaries of music. Her collaboration with R.D. Burman resulted in iconic songs that blended Indian and Western elements, demonstrating her willingness to evolve and adapt.
Asha Bhosle's journey is an ode to creativity, courage, and the pursuit of perfection. Her life story inspires us to embrace change, challenge conventions, and unapologetically chase our dreams.
5. Udit Narayan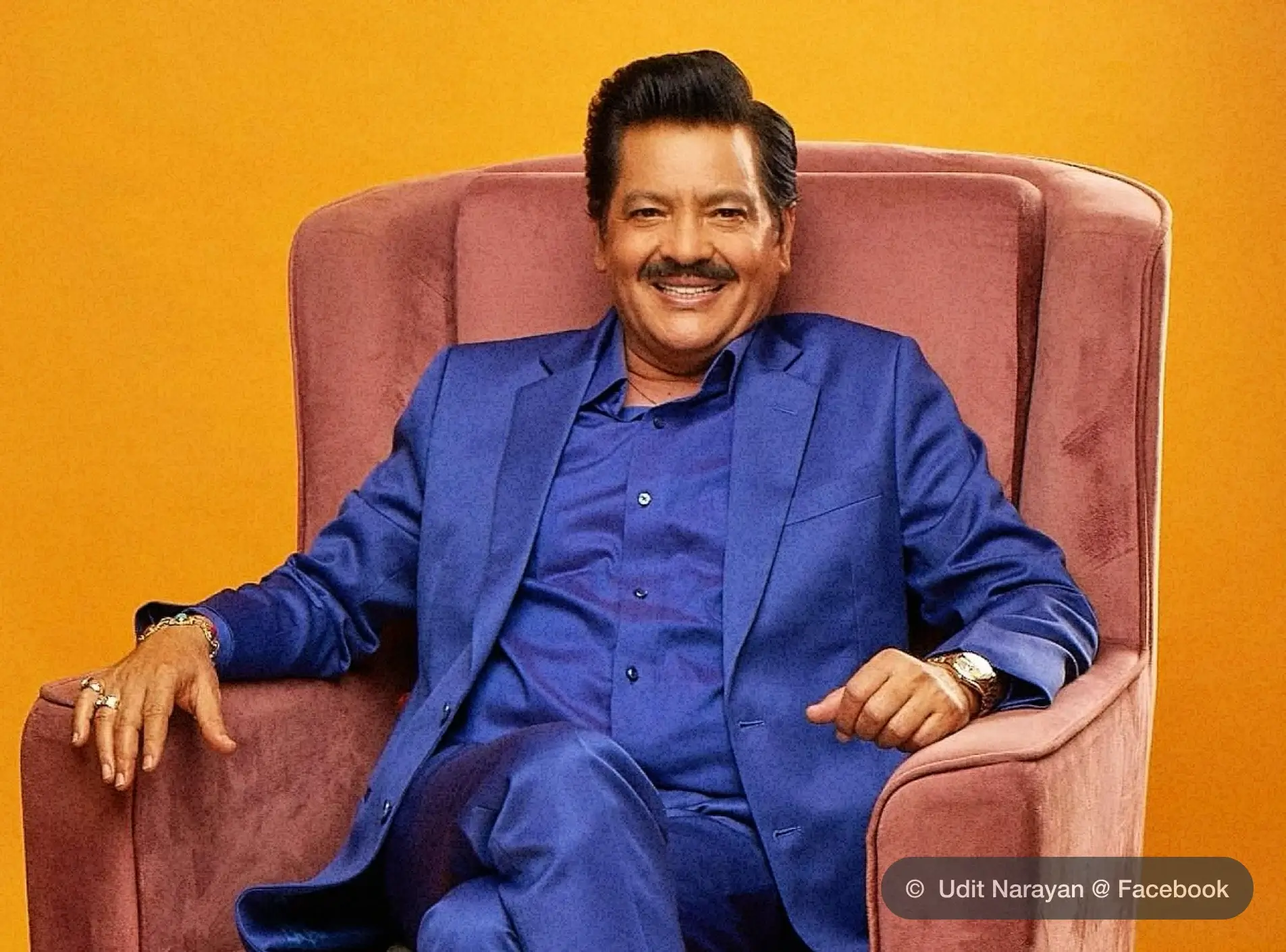 A voice stands out like a guiding star, leading us through a melodious journey that touches the very depths of our souls - is none other than that of Udit Narayan. Through his voice, he can rake myriads of emotions in the hearts of the listeners - whether it's the longing for a loved one, the pain of heartbreak, the joy of celebration, or the devotion in prayer.
Be it the peppy 'Tu Cheez Badi Hai Mast Mast', the surrendering tone in 'Tip Tip Barsa Pani' or the sulky-yet-hopeful 'Akele Hum Akele Tum' - Udit Narayan's voice has etched a special place in our hearts with each of these songs and more.
He has brought to life several melodious compositions of Jatin-Lalit, Anand-Milind, and A.R. Rahman that has given his listeners some timeless melodies.
Udit Narayan comes from a very humble background in Nepal and the purity of his heart reflects as much as in his smile as in his voice.
6. Alka Yagnik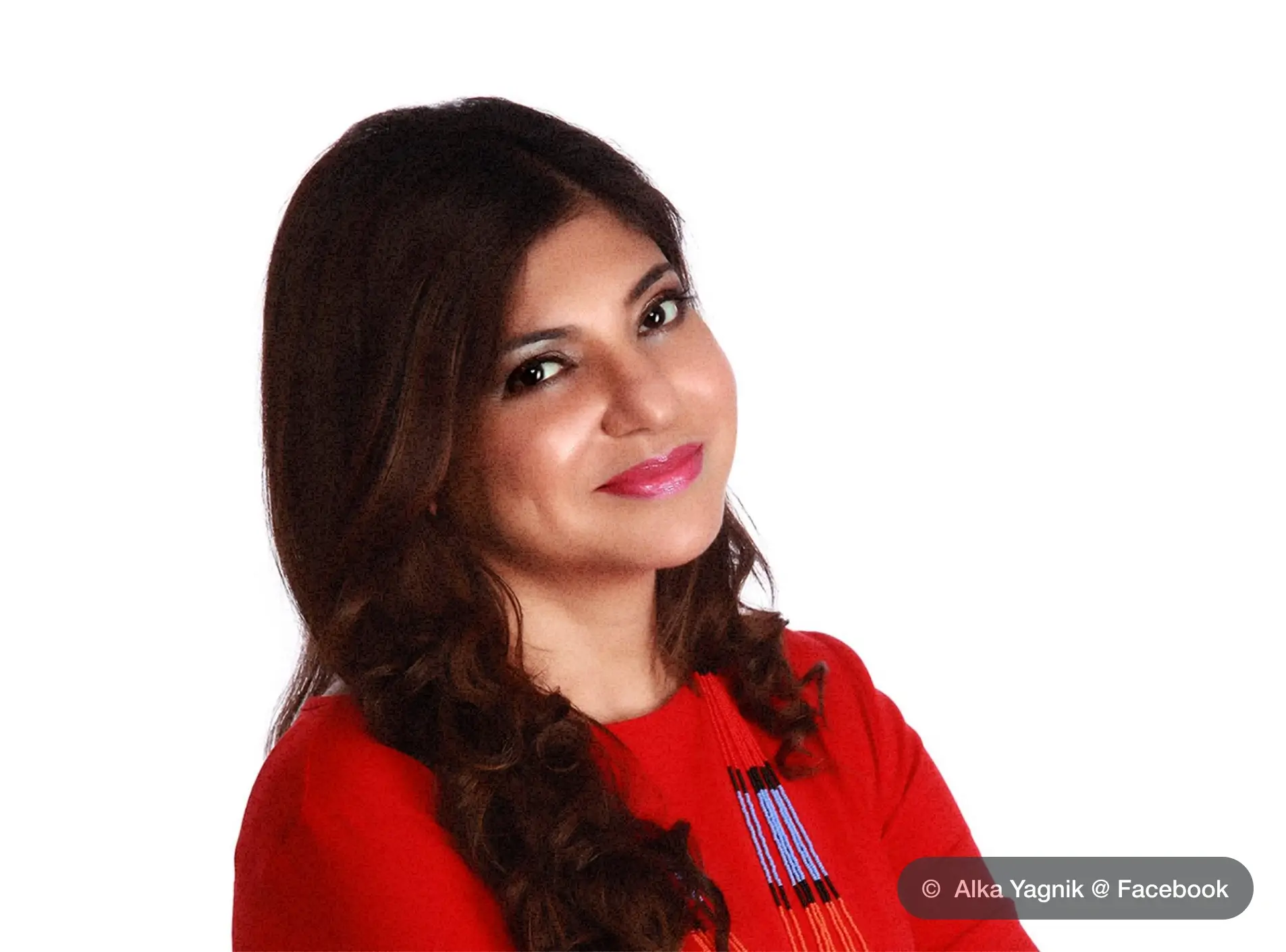 Surviving the presence of stalwarts such as Lata and Asha - Alka Yagnik etched her space in the Bollywood music industry through sheer dedication and consistency. After her first break in Bollywood with the super hit song - 'Mere Angne Mein' from 'Laawaris' in 1981, Alka Yagnik had to wait till 1988 for her next Bollywood song. The song was 'Ek Do Teen' from the Blockbuster film of that year - Tezaab. The song won her the Filmfare Award for Best Female Playback Singer. And the rest is history.
Having sung in 25 languages and also, 15 Pakistani songs, Alka Yagnik's ethereal voice left its mark with every note she rendered. With the passage of time, she emerged to be one of the most famous Indian singers with a voice that was a prism of versatility, capturing the essence of every emotion with breathtaking precision.
Alka collaborated with legendary composers like Anu Malik, Nadeem-Shravan, and A.R. Rahman to gift an unending playlist of melodies that appeases listeners across generations. Her partnership with prolific lyricists like Sameer and Javed Akhtar further enriched the lyrical beauty of her songs.
Her evergreen melodies have a timeless quality that captivates even in an ever-changing musical landscape. Alka Yagnik's journey isn't just a symphony of notes; it's a tapestry of dedication, talent, and an unwavering commitment to her craft.
7. S P Balasubrahmanyam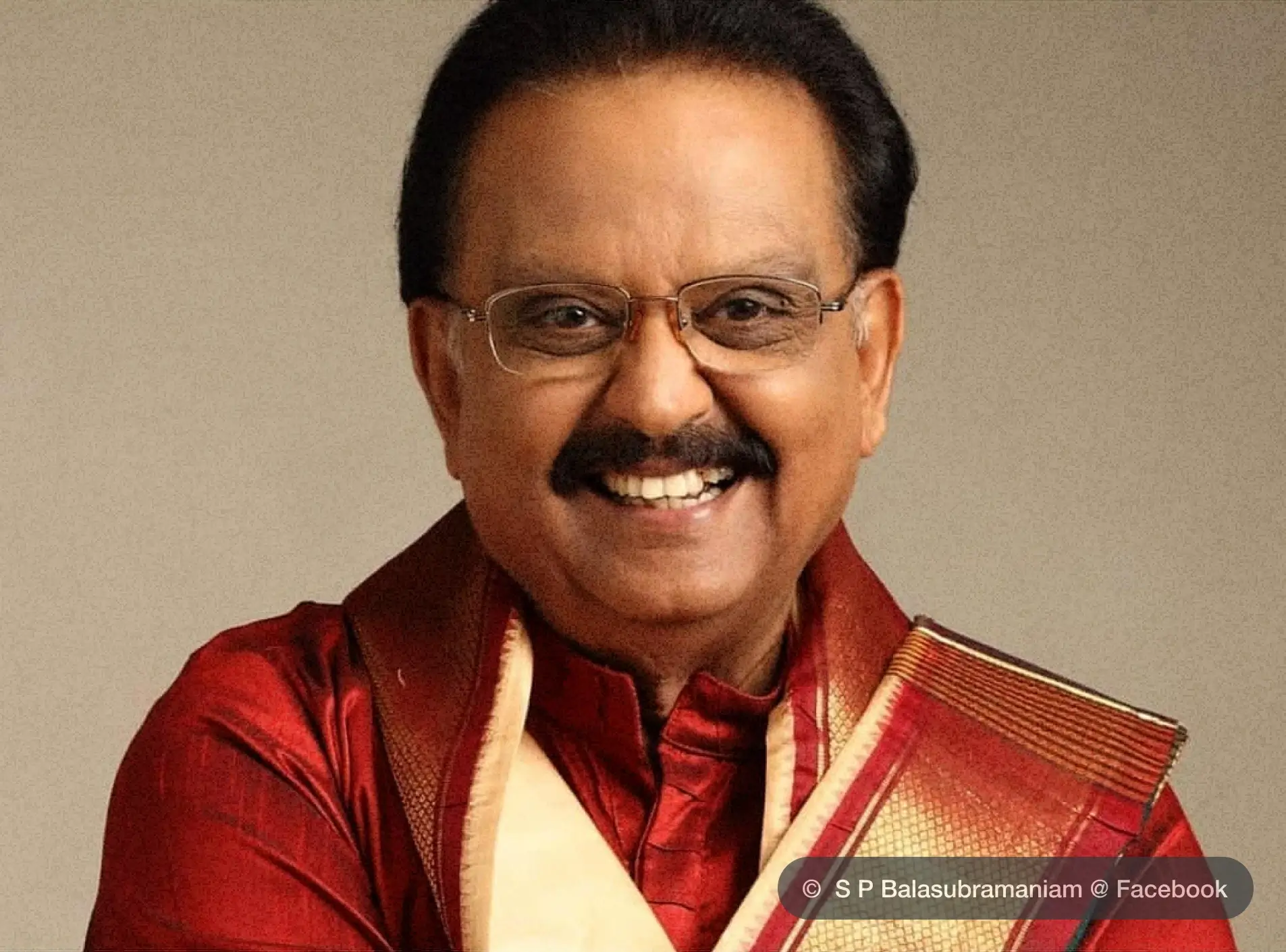 A full-throat voice that reaches the pit of your heart with every note - is none other than that of S P Balasubrahmanyam. Balu, as he is fondly called in Bollywood, started his career in playback singing in 1966 with a Telugu film named - Sri Sri Sri Maryada Ramanna.
After having earned enough accolades in the Telugu film industry, he ventured into Bollywood playback singing with the film - Ek Duje ke Liye in 1981. His versatile voice breathed life into the lyrics penned by Anand Bakshi and music composed by Laxmikant-Pyarelal and immortalized the song - 'Tere Mere Beech Mein'. He was again heard giving voice to Kamal Hassan in the 1985 film - Sagar for a song that is so much close to our hearts - 'Sach Mere Yaar Hai'.
In 1989 he gave voice to Salman Khan in his debut and blockbuster film - Maine Pyar Kiya. Balu effectively demonstrated his versatile vocal prowess through every mood and moment of the film starting from the jovial 'Aaja Sham Hone Aayi' to the intensely passionate 'Mere Rang Mein Rangnewali'.
This marked the beginning of a new era when the singer-actor duo gave some timeless songs that etched deep into the hearts of their listeners and admirers. Songs such as 'Sathiya Yeh Tune Kya Kiya', 'Tumse Milne Ki Tamanna Hai', 'Yeh Raat Aur Yeh Doorie', and many more have given the listeners reasons to smile, laugh, cry, and rejoice.
S. P. Balasubrahmanyam's journey isn't just a series of melodies; it's an extraordinary saga of passion, dedication, and the relentless pursuit of excellence. His songs are not for us to just listen to and be absorbed in our self-centered moments, but his life also inspires us to embrace our talents, break barriers, and leave an indelible mark on the world.
While this ongoing list covers only vocalists, readers who are interested to read about music maestros from diverse fields can read our blog - Top 6 Famous Indian Classical Musicians & Legends.
8. Sunidhi Chauhan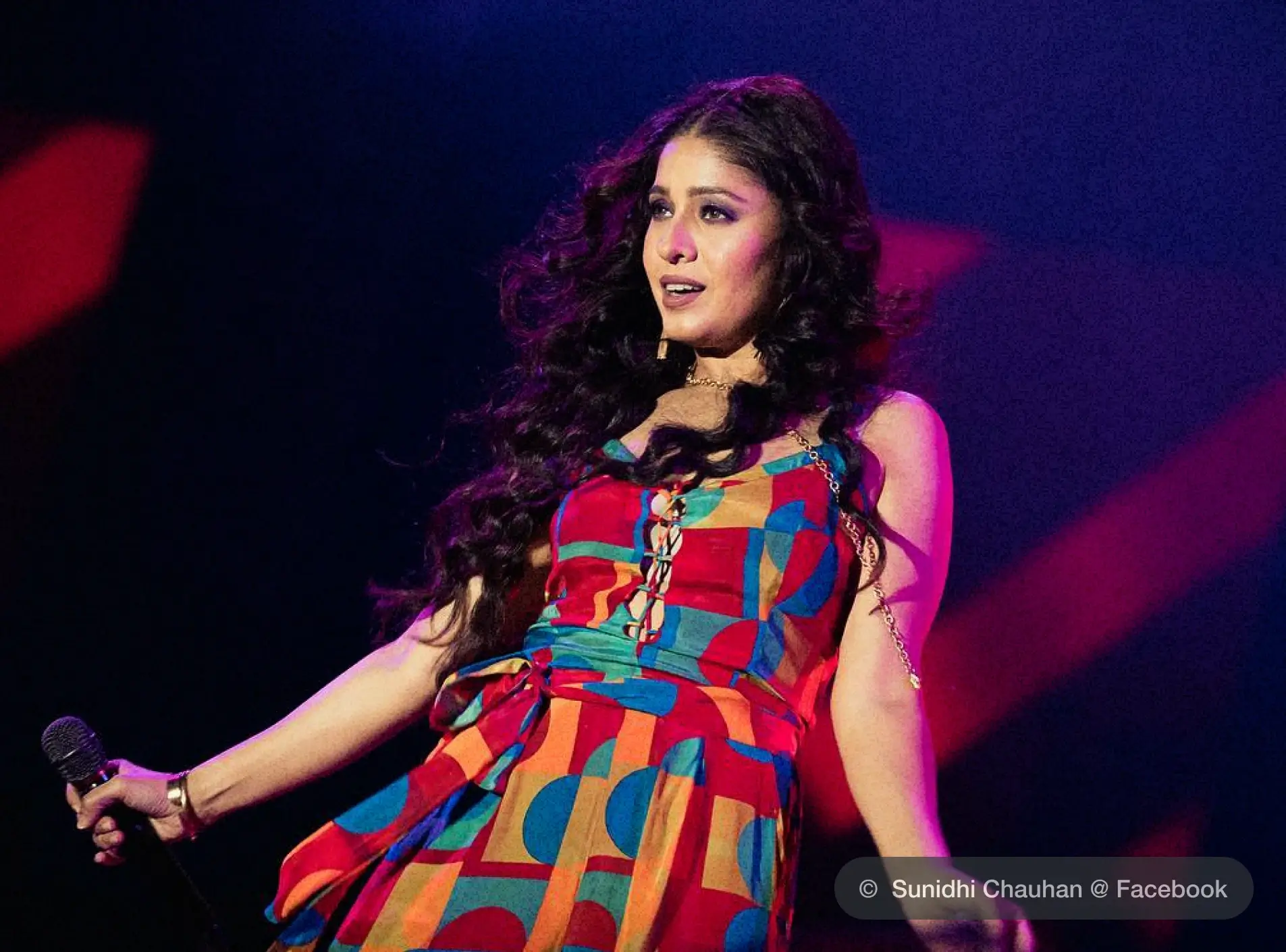 A child prodigy who created a benchmark with every song she rendered. After winning the reality show - 'Meri Awaz Suno', Sunidhi recorded her first playback song - 'Ruki Ruki Si Zindagi' for the film - Mast. Still in her teens and untrained as a singer, Sunidhi dabbled with a few soundtracks before she took formal vocal training from Gautam Mukherjee.
Thereafter, 'Mehboob Mere' in Fiza, 'Bhumro' in Mission Kashmir, 'Mahi Ve' in Kaante - one powerful rendition after another. She has a strong and husky voice that can also be vulnerable just by a turn of a note. Each of her songs is more of a blaze of emotion than a melody that keeps resonating in the psyche of the listeners long after the song has ended.
Sunidhi's well-selected body of work in collaboration with acclaimed music directors like A.R. Rahman, Vishal-Shekhar, and Pritam has resulted in chart-topping hits that have become synonymous with the movies they accompany.
Sunidhi Chauhan isn't just a singer; she's a living embodiment of musical dynamism. Her journey is a testament to the boundless potential within each of us, waiting to be unlocked through dedication and grit. Her voice is a testament to the power of authenticity and the magic that happens when we fearlessly embrace our unique talents.
9. Arijit Singh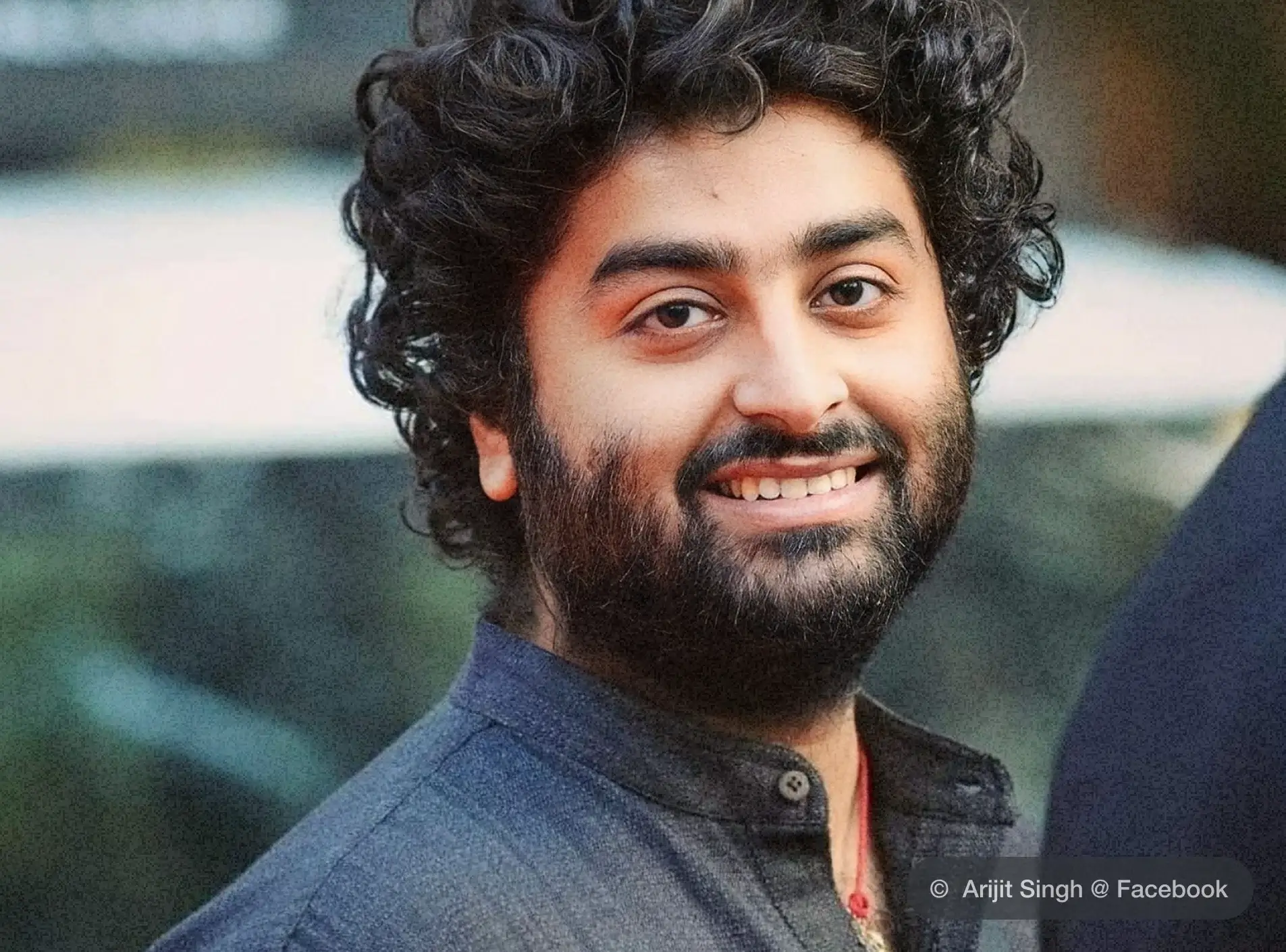 A very strong contender for the title of reality show - Fame Gurukul in 2005 who was voted out just a couple of levels prior to the grand finale - Arijit Singh walked out of the stage with a resolution to - 'come back with a bang'. And he kept his word.
'Tum Hi Ho' in Aashiqui 2 established him as a credible and dependable lead singer that Bollywood films could rely on. The song helped him bag the Filmfare Award for Male Playback Singer in 2013.
He had to put up a strong fight against several judgemental critics and competitors to claim his throne in the Bollywood music industry. And in this fight, his only armor was his passion for music and an undeterred grit to make an indelible mark as a Bollywood Singer.
With songs like the peppy 'Balam Pichkari', the honey-dipped 'Samjhawan', the intense 'Yeh Laal Ishq', and many more such timeless melodies that tug at the heartstrings of the listeners - Singh has proved that his place in Bollywood is unmovable.
10. Shreya Ghoshal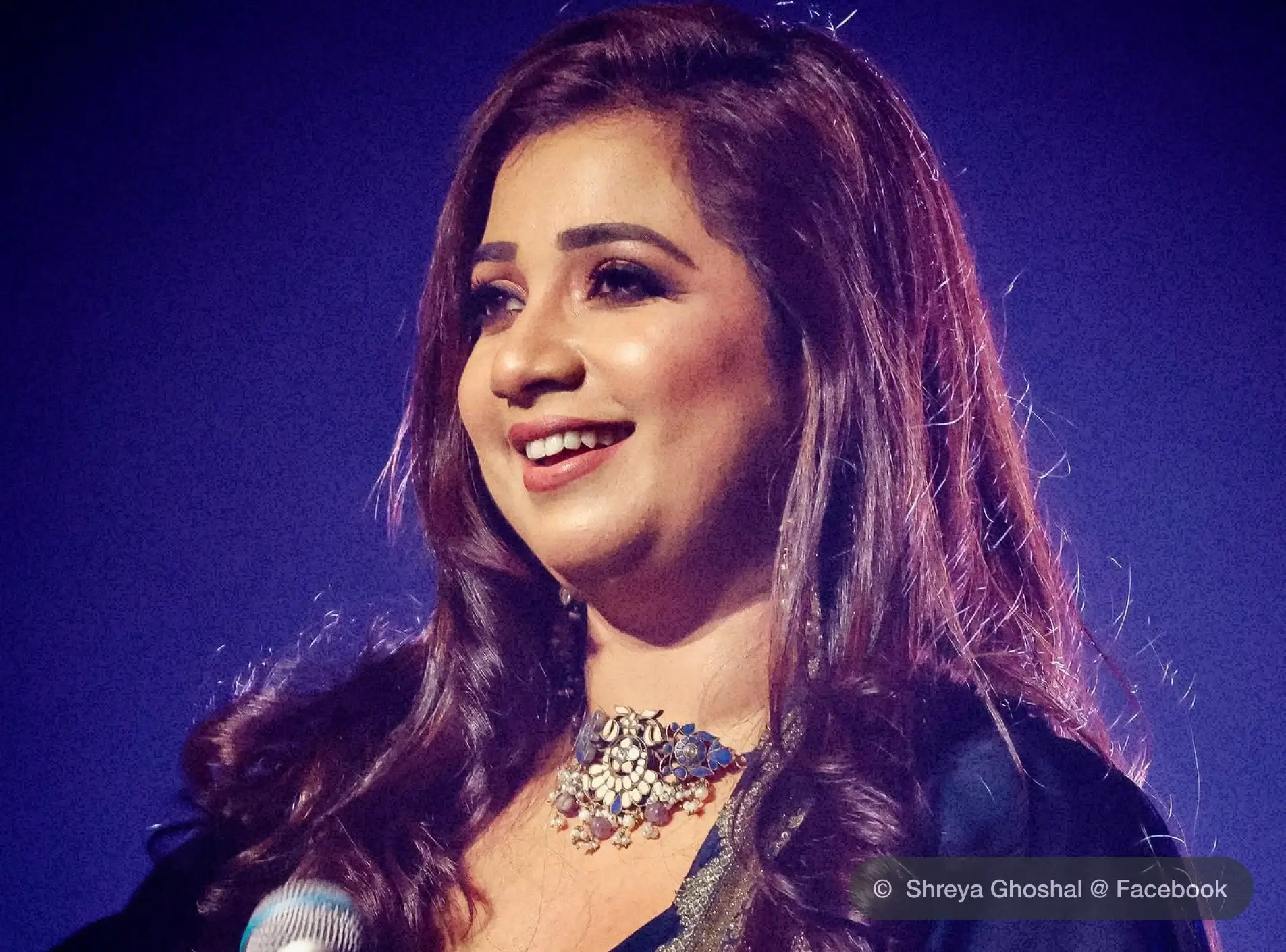 Ever since Shreya Ghoshal rendered - 'Silsila Yeh Chahat Ka' in Sanjay Leela Bansali's period romantic drama - Devdas, she claimed her rightful place in the Bollywood music industry. 
'Pa Dha Pa Dha Pa Dha Pa Dha, Ga Ma Pa Dha Ni Ni Sa'
Have you ever come across Shreya singing the 'Sargam' part of 'Mere Dholna' from Bhool Bhulaiyaa while casually scrolling through the social media feeds? The moment you hear her sparkling voice rendering each and every note with precision with absolutely no musical accompaniment, your fingers freeze there. And you are unable to move lest you lose the post! And after the song is played out you search it out of your playlist and listen to the entire song once again. That is the impact of Shreya Ghoshal. Her voice is captivating. It casts a spell on the listener.
Like many other singers of Bollywood, Shreya came to be noticed by Bansali in the reality show - Sa Re Ga Ma Pa - Children's Special episode. And the rest is history.
Any amount of adulation is an understatement for Shreya. With every song - be it 'Dheere Jalna' in Paheli or 'Param Sundari', Shreya has made herself irreplaceable in the industry.
Conclusion
So with that, we come to the end of the list of best Indian singers and legends of the Bollywood music industry. Thanks to all the incredible Bollywood singers, Bollywood singing classes are very much in demand in recent times. This genre of music is gradually growing with a legible curriculum that addresses diverse learning capacities as well as objectives.
To be able to sing Bollywood songs is an aspiration many people secretly kindle in their hearts. And the leading Bollywood singers inspire them to pursue their dreams.